Review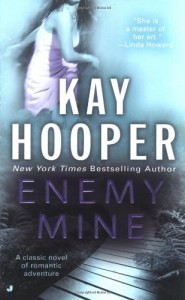 Enemy Mine
by Kay Hooper
Book 1 of Antiquities Hunters


This was definitely a very easy to get into romantic suspense, and probably one of my favorite of all the Kay Hooper books I've read so far. This is actually one of Ms. Hoopers earlier works, written in 1989, so I could kind of pick out some of the more dated ideals, especially when it came to the romance. But for the most part, I hadn't really noticed.

Enemy Mine was an exciting adventure from beginning until the end, and not once did I really want to put the book down, and only did so when I had no choice (you know, work obligations and all that).


The Story:
Tyler St. James and Kane Pendleton have been rivals in antiquities since they first met three years ago. In fact, the two are the best at locating and collecting any priceless artifact their bosses desire, and have butted heads more than once no matter where they travel to around the world. After all, even the men they each work for are bitter rivals, so Tyler and Kane are both determined to stake claim on an artifact before the other.

Their latest mission involves a golden chalice that they have traced to be in a treasure cache in Colombia, South America. The chalice is stated to have been part of a pair of golden cups, once upon a time belonging to Alexander the Great, having been passed down and lost throughout the years. Their journey leads them from Colombia to Italy as they discover the whereabouts of the second chalice.

But even as they decide to team up to retrieve both relics, it seems that danger is always around every corner.


My Thoughts:
To be honest, this book felt like a typical, made for movie story. The action never stops, and a whole lot of stuff happens. But at the same time, the story line is also a little chaotic, and while our main hero and heroine are chasing after a specific artifact, the book itself actually feels like two different story lines. The Colombia setting is one story where they find the first chalice and face down a group of bandits. Then Italy is the second story when they set off to find the second chalice and end up facing down yet another danger.

Aside from the running romance plot and the whole "find the chalice" main story line, this book really could have been split into two separate ones. But then we'd have two really short books to follow and that just seems impractical, no? Either way, we get a nice adventure plot in the first half of the book, then we get a little espionage and mystery in the second half of the book.

I'm really not complaining. I really DID enjoy myself. This book was pretty addictive.

Anyway, this isn't the best book in the world, and many might find it a little lacking. But I honestly found it really enjoyable and entertaining. As I'd already said, it feels like watching an action movie unfold, because the suspense just kind of holds you in it's grip. Between the action, the adventure, the brief interludes into historical research, I really just couldn't take my eyes away from it.

The romance feels a bit unbalanced--when Tyler and Kane finally acknowledge the lust and their feelings individually, the focus becomes a bit too stuck on the romance. Tyler and Kane are typical romance hero and heroine: beautiful, independent, strong, heart of gold... perfect. But I always appreciate a nice strong heroine who can kick butt, so I'm going to gloss over it and just be happy I enjoyed the book. So the unbalanced focus on the romance didn't really bother me much since we get right back to the adventure and action plot. After all, this is a romantic adventure/romantic suspense.

Tyler and Kane had wonderful chemistry and I like how natural their strange partnership feels, from reading each other's minds, to having complete trust in one another to watch each others' backs.

I'm definitely looking forward to reading the next book.


***

2016 Reading Challenges:
• Goodreads Reading Challenge
• BookLikes Reading Challenge
• Reading Assignment Challenge
• Bookish Resolutions Challenge