Review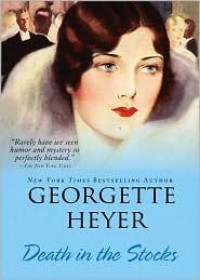 Death in the Stocks
by Georgette Heyer
Book 1 of Inspectors Hannasyde & Hemmingway
A Moonlit Night, a Sleeping Village, and an Unaccountable Murder...

In the dead of the night, a man in an evening dress is found murdered, locked in the stocks on the village green. Unfortunately for Superintendent Hannasyde, the deceased is Andrew Vereker, a man hated by nearly everyone, especially his odd and unhelpful family members. The Verekers are as eccentric as they are corrupt, and it will take all Hannasyde's skill at detection to determine who's telling the truth, and who is pointing him in the wrong direction. The question is: who in this family is clever enough to get away with murder?


I don't know what to say about this one. I enjoyed it and found the mystery interesting. The writing was excellent and gave the book a nice British mystery vibe... if that makes any sense. But the characters were all terrible people and I had a really hard time relating to them. And it wasn't like they were monstrous people or anything... they were just all very unlikable characters.

The suspects were all jokey and flippant about their own situations. Witnesses were belligerent and rude. The entire Vereker family were entitled, spoiled, and over dramatic. The one character I ended up even liking ended up being the culprit.

And then there was a strange attempt at a romance, which... I'm not familiar with Georgette Heyer and this is the first book I've read of hers... But are all of her romances as detached, instantaneous, and barely significant as this?

Anyway, I was considering the next book in this series for Halloween Bingo 2019, so it'll give me another look at Georgette Heyer's writing. On the other hand, while I had a lot of things to complain about, the writing was rather fun to follow and the book was just so that I couldn't really look away and never really felt the need to stop reading.

So I was entertained even if I didn't like the characters.